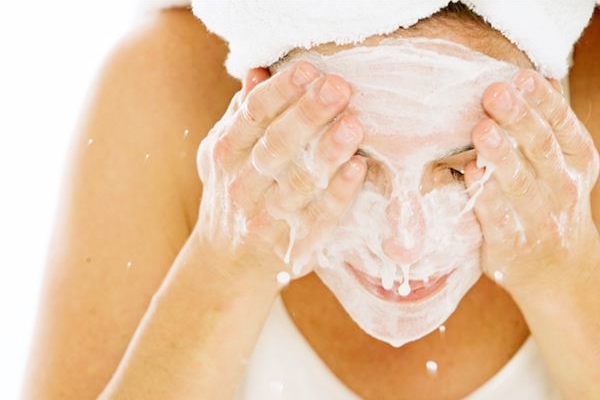 You may want to use a soft and natural make-up cleanser to get rid of heavy make-up, after sporting it for hours. The experts says, cucumbers and yogurt can act as natural make-up cleansers and will leave your skin safe and glowing as well.
Here are some natural cleansers, which will make you feel free to remove make-up and will also enhance the glow of your face.
Milk: Milk acts as a natural make-up remover. It helps you to get rid of dirt and acts as the best make-up cleanser for sensitive skin. Milk is one of the most affordable options for removing make-up and keeping your skin refreshed.
Oil cleansers: You can use oils such as olive oil and coconut oil to cleanse your skin thoroughly and to remove all sorts of make-up applied on your face. Apart from the make-up, these oils also remove dust and dirt settled on your face without over-drying it.
Yoghurt: Yoghurt helps in relieving stubborn sunburns and also acts as a good cleanser. Dip cotton balls into plain yoghurt and rub them all over the skin and rinse off with cold water.
Cucumbers: Cucumber is one of the most popular ingredients in skincare list. It is known to be a cooling agent due to its high-water content. Grated cucumber can be used as a cleanser and to get rid of that pigmented lipstick, add a little bit of  olive oil or milk to the mixture.
Aloe Vera Gel: Aloe Vera Gel  is a great natural cleanser. You can also put the gel in the fridge and soak it in cotton balls to make a quick and effective compress for tired and puffy eyes.
Rose water: Rose water is an all time cleanser. Dip cotton balls in rose water and gently wipe your face and neck before you're off to bed. This magic potion not only leaves a good fragrance of rose but also keeps all the dirt at bay.
Also Read: Straighten your hair, free of cost
Nandini