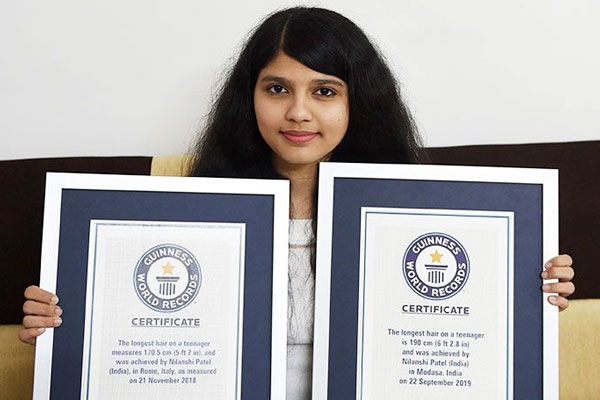 (Image source from: gulfnews.com)
An Indian teen has retained her crown with the world's longest hair among the teens and has got her name registered in Guinness World Records.

Her hair currently measures 190 cm or 6 feet and 2.8 inches which had battered her record of 170.5 centimeters that is about 5.59 feet which was set in 2018.

Nilanshi Patel of 17 years-old is from a small town of Modasa in the state of Gujarat has cracked her own record for the teen with the world's longest hair.

She has been dubbed as "Rapunzel" for her long locks of hair, by her friends as it resembled with the character of a fairy tail who has been also known for her long hair.

The Guinness World Record had written in a post on instagram on Friday where it has mentioned the record holder for the longest hair on a teenager as Nilanshi Patel from India as she has been remeasured recently and was recorded with her lengthy locks reaching 190 cm.

Patel has said that she had not visited a hairdresser for 11 years now after she has experienced a bad haircut at the age of six. She said that she applies an oil which is prepared at home by her mother which consists of some secret ingredients that her mother adds during the preparation of the oil.

Patel added saying that she has to wear high heels in order to avoid her hair touching the ground as the few added inches will not let her hair touch the ground. She said that she cares for her hair just like all other teenagers but with the help of her mother.

Patel maintains her hair by washing it once in every week and will be applying oil to her hair in once or twice a week and in order dry her hair after the wash which would take about half- an- hour, she said that, she would either sit under the sun and let her hair dry or do it with a hair dryer. She added saying that combing her hair locks would consume about an hour of time.

She said that she was overwhelmed by making a way in the Guinness World Record as it was the dream of her mother to get her daughter into the Guinness Book and let the world know about her. Patel has described the experience as having a new world in her life.

Nilanshi Patel has said that her career goal was to become a software engineer and is currently preparing for the Joint Entrance Exam (JEE) mains. She added saying that her long hair has never been a distraction to her career as he she would study while her mother would take care of her hair.

Nilanshi Patel dreams of setting many more world records for her long hair and aspires to be the one to enter the Guinness world Record for the longest hair on an adult as well in the future.

By Shrithika Kushangi