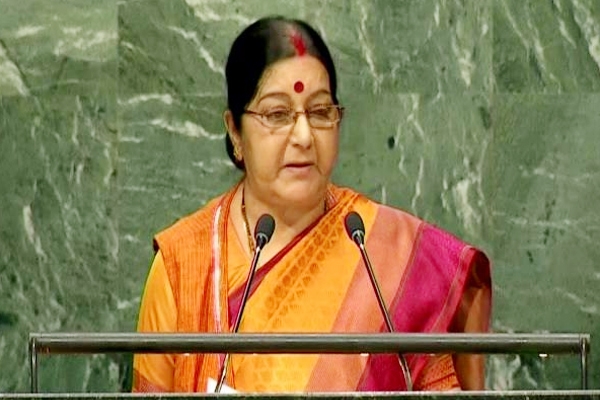 External affairs minister Sushma Swaraj gave a befitting response to Pakistani Prime Minister Nawaz Sharif's "tirade" on Kashmir at the UN General Assembly. The minister also asked him to look at what is happening in Balochistan.
Sushma Swaraj said that "countries that nurture, peddle and export terror should have no place in the comity of nations."
"In our midst, there are nations that still speak the language of terrorism, that nurture it, peddle it, and export it. To shelter terrorists has become their calling card. We must identify these nations and hold them to account," Swaraj asserted in her nearly 20-minute speech.
Read: Full text of Sushma Swaraj's speech at UNGA
"These nations, in which UN designated terrorists roam freely, lead processions and deliver their poisonous sermons of hate with impunity, are as culpable as the very terrorists they harbour. Such countries should have no place in the comity of nations," she said, in essence making a call to the international community to isolate such nations.
"The terror apparatus that was behind 26/11 and Uri was also behind a number of terror attacks all over the world," Swaraj said.
While speaking about human rights violations by India in Kashmir, Swaraj said, "I can only say that those accusing others of human rights violations would do well to introspect and see what egregious abuses they are perpetrating in their own country, including in Balochistan. The brutality against the Baloch people represents the worst form of state oppression."
Swaraj said Prime Minister Narendra Modi had extended the hand of friendship to Pakistan by inviting his counterpart Nawaz Sharif to his swearing-in ceremony in May 2014, and also visiting Lahore last December in a goodwill gesture. "But what did we get in return? Pathankot, Uri, Bahadur Ali," she said.
"Bahadur Ali, who was captured in Jammu and Kashmir, is a living example of Pakistan's cross-border terrorism," she said.
"Kashmir is an integral part of India and it will remain an integral part of India. No one can take it away by force," she said.
Prime Minister Narendra Modi congratulated Sushma Swaraj for her speech at the 71st UNGA session.
Also Read: India claims diplomatic win over Pakistan at UN!
Nandini