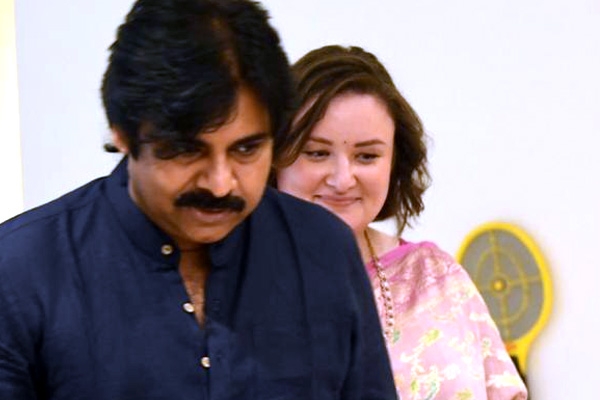 (Image source from: Twitter.com/JanaSenaParty)
National media had a strong buzz about Pawan Kalyan and Anna Lezhneva's separation. Through Pawan Kalyans' political handle, his party team has trashed the rumours by posting a picture of the actor and his wife on his social media handle. The post has rested the talks. Anna Lezhneva and Pawan Kalyan participated in the pooja held at their Hyderabad residence as the actor has completed the first stage of the Varahi Vijaya Yatra successfully.
జనసేన పార్టీ అధ్యక్షులు శ్రీ పవన్ కళ్యాణ్ గారు, శ్రీమతి అనా కొణిదెల గారు - వారాహి విజయ యాత్ర తొలి దశ దిగ్విజయంగా పూర్తి చేసుకొన్న సందర్భంగా హైదరాబాద్ లోని తమ నివాసంలో నిర్వహించిన పూజాదికాలలో పాల్గొన్నారు. శాస్త్రోక్తంగా చేపట్టిన ఈ ధార్మిక విధులను శ్రీ పవన్ కళ్యాణ్, శ్రీమతి అనా… pic.twitter.com/x3WJ5iUtQv

— JanaSena Party (@JanaSenaParty) July 5, 2023
Rumours lifted after Anna Lezhneva stayed far from Lavanya Tripathi and Varun Tej's engagement ceremony and she was also missing at Ram Charan's daughter Klin Kara's cradle ceremony. Pawan will get back busy with the second phase of Varahi yatra. He has to resume the shoot of Harish Shankar's Ustaad Bhagat Singh and Sujeeth's OG. His long delayed film Hari Hara Veera Mallu directed by Krish too has to be wrapped up soon.
On the political front, Pawan Kalyan will soon organize a party meeting at his Mangalagiri party office. He is also planning to finish his pending projects as he wants to dedicate himself as a full-time politician till the next assembly elections.