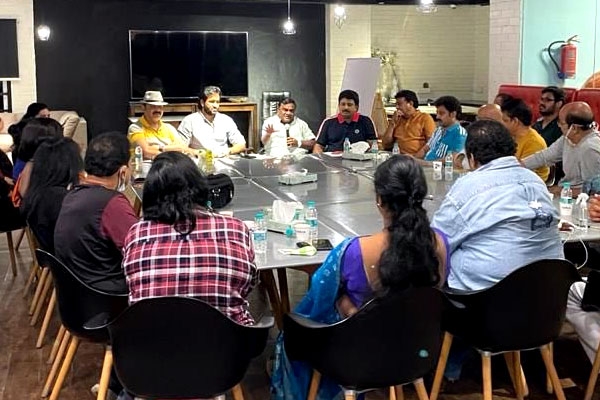 (Image source from: Twitter.com/iVishnuManchu)
The Election of Movie Artists Association (MAA) created enough noise after there were too many contestants. Prakash Raj and Manchu Vishnu are the major contestants in the race and Prakash Raj announced his panel some time ago and he is busy with the campaign. Though his words triggered controversies, Prakash Raj took his time to explain about the real meanings behind his words. Though he was termed as a non-local, Prakash Raj reminded that he has been acting in Telugu films since two decades. Manchu Vishnu today announced his panel.
For my MAA, our privilege and honor pic.twitter.com/Ow3Cdrvsec

— Vishnu Manchu (@iVishnuManchu) September 23, 2021
His panel consists of Babu Mohan, Prithviraj, Raghu Babu, Madhala Ravi, Siva Balaji, Karate Kalyani, Gautham Raju are other crucial members and the executive members' list has Archana, Ashok Kumar, Geetha Singh, Harinath Babu, Jayavani, M Shailaja, Manik, Poojitha, Rajeshwari Reddy, Rekha, Sampoornesh Babu, Shashan, Sivannarayana, Srilakshmi, Srinivasulu P, Swapna Madhuri, Vishnu Boppana and Vadlapatla MRC. The election for MAA will take place on October 10th in Jubilee Hills Public School and the results will be out on the same day.