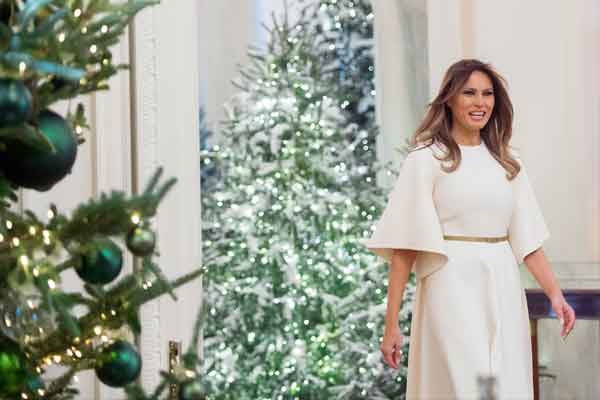 (Image source from: people.com)
Washington DC:
Melania Trump's White House decorations for this year's Christmas has been a subject of largely mean memes and hate tweets over the past couple of days. Twitter was set ablaze as soon as the White House unveiled this year's festive frenzy at the President's Home in Washington DC.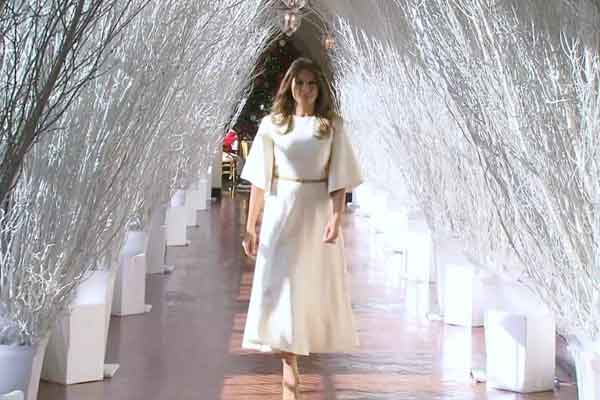 Image credit: Youtube
This years Christmas show at White House was themed, "Time-Honored Traditions," credited to Trump. It is intended to pay homage and tribute to the 200 year old legacy of White House holiday customs.

The decorations consist of giant brightly lit trees, decorated treats and a massive gingerbread house. There is also "The Nutcracker Suite" theme, finished beautifully with trees and matching crystal ornaments, which adorns spaces at the White House

                       Image credit: Youbute
The elaborate decorations include 53 Christmas trees, 71 Christmas wreaths, over 12,000 ornaments and a 200-pound gingerbread reproduction of the White House. Even the Grand Foyer and Cross Hall were decorated with multiple Christmas trees, all covered in crystal ornaments and artificial snow. This all is believed to be inspired by the "Nutcracker Suite" theme of the 1961 White House holiday decorations.

                       Image credit: people.com
While the red room consisted of a smaller Christmas tree than at the other places. Its decorations are made with holiday candies and treats. According to press release, "There, the first lady sat with children from Joint Base Andrews to make holiday decorations out of gumdrops" The official release from White House also states, "Throughout the month of December, the White House will host more than 100 open houses and many receptions. More than 25,000 visitors will walk the halls taking part in public tours."

Though social media has made a mockery of the show by melania Trump. The image of the hallway decorations is pretty eerie and spooky to which twitteratti responded, it is better suited to Halloween than Christmas.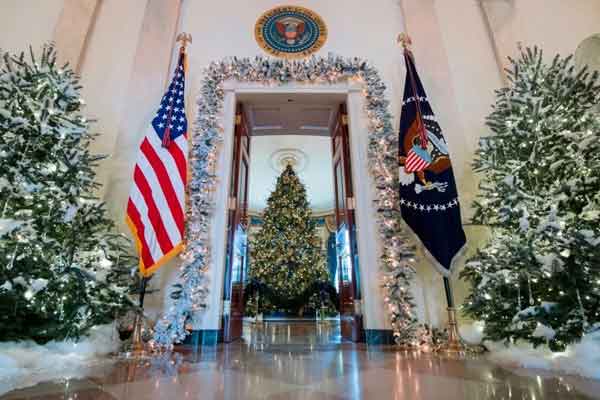 Image credit: wtkr.com
It reportedly cost a whooping $128,000, which included the price of bulletproof glass that the Trump administration ordered. In addition Tweets also mentioned that another $137,000 have already been spent on golf carts for security staff to follow around on Trump's 78 golf outings so far.

Some hate tweets include: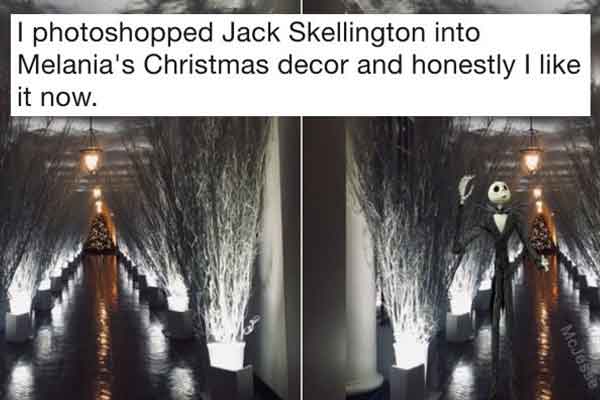 Image credit: pizzabottle.com
                       Image credit: boredpanda.com
                       Image credit: sfgate.com
By Minu Manisha