Duet With The Maestro's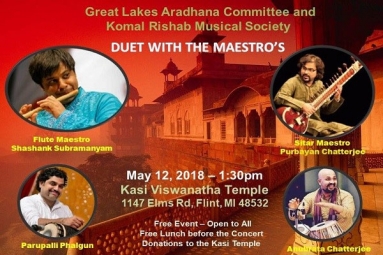 About this Event
Duet With The Maestro's
Duet With The Maestro's held at The Paschimakasi Sri Viswanatha Temple Auditorium Flint.
Expand your horizons during an evening filled with classical Indian music that will transport you to the beauty that is India. This magnificent performance features some of India's most illustrious musicians: Shashank Subramanyam, bamboo flute; Purbayan Chatterjee, sitar; Parupalli Phalgun, mridangam; and Anubrata Chatterjee, tabla.
A Grammy-nominated proponent of the flute, Shashank Subramanyam has a successful career in Indian classical music that spans over 30 years. Accompanied by Purbayan Chatterjee, acknowledged as one of the finest sitar players in Indian classical music, these two musicians are considered to be among the best in India. Joining them are Parupalli Phalgun, an extremely talented mridangam player, and Anubrata Chatterjee, who was nurtured from a tender age to be a talented tabla player.
EVENT TITLE & ADDRESS
STARTS FROM
Rochester Adams High School,
3200 West Tienken Road,
Rochester Hills, MI 48306