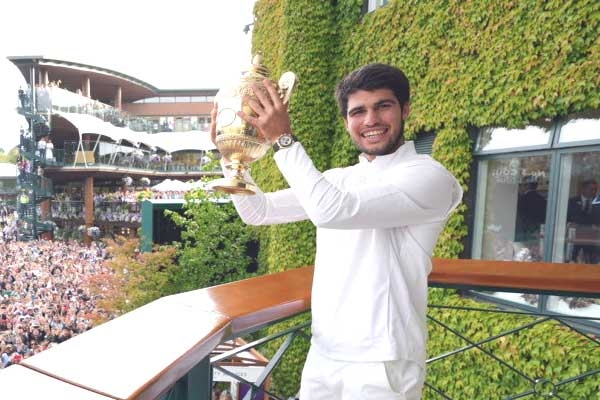 (Image source from: Twitter.com/Wimbledon)
The 20-year-old Carlos Alcaraz has created history by winning their maiden Wimbledon Championship trophy by winning against Novak Djokovic in the men's singles.
The final match has a tremendous set of 1-6, 7-6(6), 6-1, 3-6, 6-4. The Spanish sensation created history by winning a US Open trophy in 2022, Wimbledon championship is his second major tournament win. The match went on for four hours and forty-two minutes, which was definitely a tough call for Djokovic to lose the match. Only the first two sets 1.6, 7-6 (6) have the extreme best performance of both the players. The two sets took around eighty minutes of time. In the third set, Djokovic has 18 unforced errors, and the pressure was completely on Djokovic.
Alcaraz broke Djokovic's wins in the final fifth set by 6-4, which went on for 27min. By the end, Alcaraz has lifted the Wimbledon trophy for the year 2023.