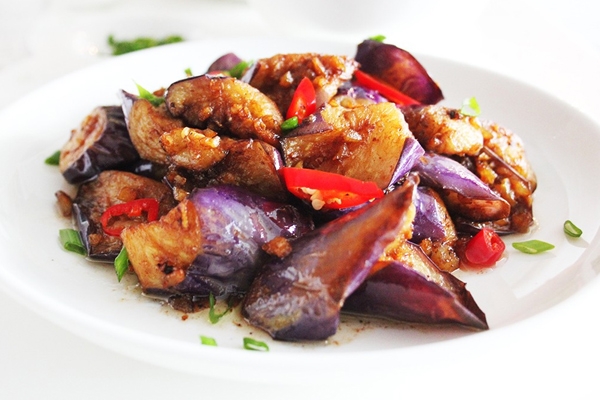 The Stir-fried Brinjal is a delicious recipe, which best served with roti. It is very easy to make and less time consuming dish. Best suitable for lunch and dinner.
Ingredients:
Eggplants (brinjals): 250 grams, (cut into small pieces)
Oil: 50 ml
Red chillies: 2, small (finely chopped)
Garlic: 2 cloves (crushed)
Water: 1 cup
Dark soy sauce: 2 tablespoon
Sugar: 1/2 tablespoon
Method:
Take a heavy bottom pan and heat the oil.
Now, add the garlic and red chillies.
Fry it for 15 to 20 seconds, then remove.
Add the eggplants to the pan and stir-fry for 3 to 4 minutes.
Gently add 1/2 cup of water, stirring all the time.
Cook till the eggplant is soft.
Then, add the soy sauce, sugar and the remaining water.
Cover the pan with a lid and cook for a minute more.
Remove the lid and cook till all water has been absorbed.
Add the reserved garlic and chilli.
Stir-fry for 30 seconds.
Serve hot.
Also Read: Healthy Brown Rice Pulao recipe!
Nandini