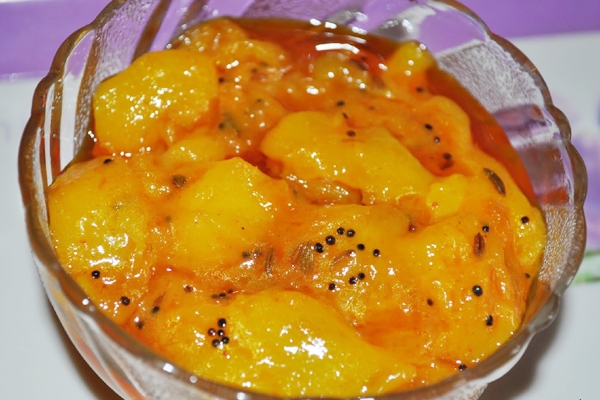 Aam ki Launji is a quick and easy pickle that tickles your palate! No complex methods, tricky proportions or pickling time involved in making this. Even it stays fresh for almost four days in the refrigerator. Let's try spicy Aam ki Launji in this Mango season.
Ingredients:
Raw mango cubes (peeled): 1 cup
Oil: 1 tablespoon
Fennel seeds: 1/2 teaspoon
Nigella seeds: 1/2 teaspoon
Coriander powder: 1 tablespoon
Chilli powder: 1 teaspoon
Turmeric powder: 1/4 teaspoon
Sugar: 1/4 cup
Salt to taste
How to make Raw mango launji:
Heat the oil in a heavy bottom broad non-stick pan and add the fennel seeds and nigella seeds.
Add the raw mango cubes, mix gently and cook for 2 minutes on a medium flame.
Now, add water, coriander powder, chilli powder, turmeric powder, sugar and salt,mix well and cook on a medium flame for 2 to 3 minutes.
Switch off the flame and let it cool completely.
Once cooled, serve or store in an air-tight container and refrigerate.
Also read: Green Mango Panna!
Nandini