Dining table with eight chairs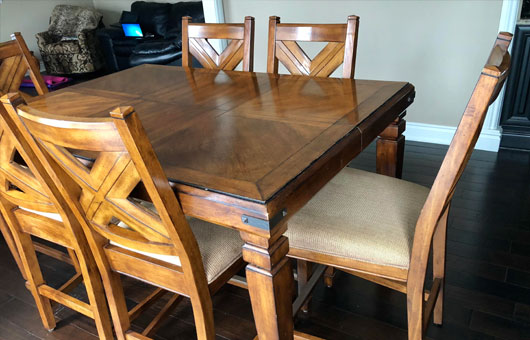 Important Safety Tips :
View properties in person, and always take someone with you. Never send or wire money to landlords. Classifieds does not offer any transaction or payment services. Stay safe - read our safety tips.
Description
Expandable dining table that seats 8 people with its eight chairs (in the picture, the table is not shown fully expandable as one leaf is taken out and also in the picture only six chairs are shown).
Excellent condition!
Priced for sale...
Related Ads
Dining Table With 6 Cushioned Chairs On Sale. The Dining Table And Cushioned Chair Are In Perfect Condition. The Aski

I Have 1 Sofa Sleeper Fair Condition 100$

1queen Size Bed Frame With Head Board 50$

1 Com

Furniture move
I have 17ft box truck that can move appliances or Furniture for 75 an hour with 2 men min 2 hrs. Call us 3134673258